Conifer Garage Door Spring Repair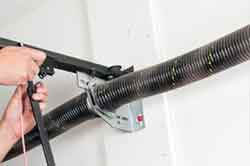 It does not surprise us to learn that your garage door springs are showing signs of wearing. This is something we see every day. It is common. When you are not receiving any type of maintenance work performed on your garage door, it is quite likely that your garage door springs will begin to show signs of wearing. This isn't anything that can't be repaired with the help of Conifer Garage Door Repair. At Conifer Garage Door Repair, we have a team of dependable and efficient garage door service technicians who can have your springs repaired quickly so that you are able to go on using your garage. Do not use your garage if you are having any type of problems with its functionality.
This poses a real threat to you and anyone else who might use your garage in this condition. When the springs have been worn for a long time, it is possible for the springs of your garage door to eventually snap. Don't let this happen to you. Your garage door springs need repairing right away so that you can go on safely using your garage. Our associates are knowledgeable about your garage doors and can answer any questions or concerns you may have about your garage doors. They can advise you of all of your many options and explain, in detail, the features and benefits of every product offered by Conifer Garage Door Repair.
We will always start by offering you a thorough assessment of your garage doors. Once this has been accomplished, our service technicians will be able to tell you exactly what the problem is and address the situation accordingly. Call on Conifer Garage Door Repair when you want to make sure the job is done right. We offer you satisfaction guaranteed at Conifer Garage Door Repair.